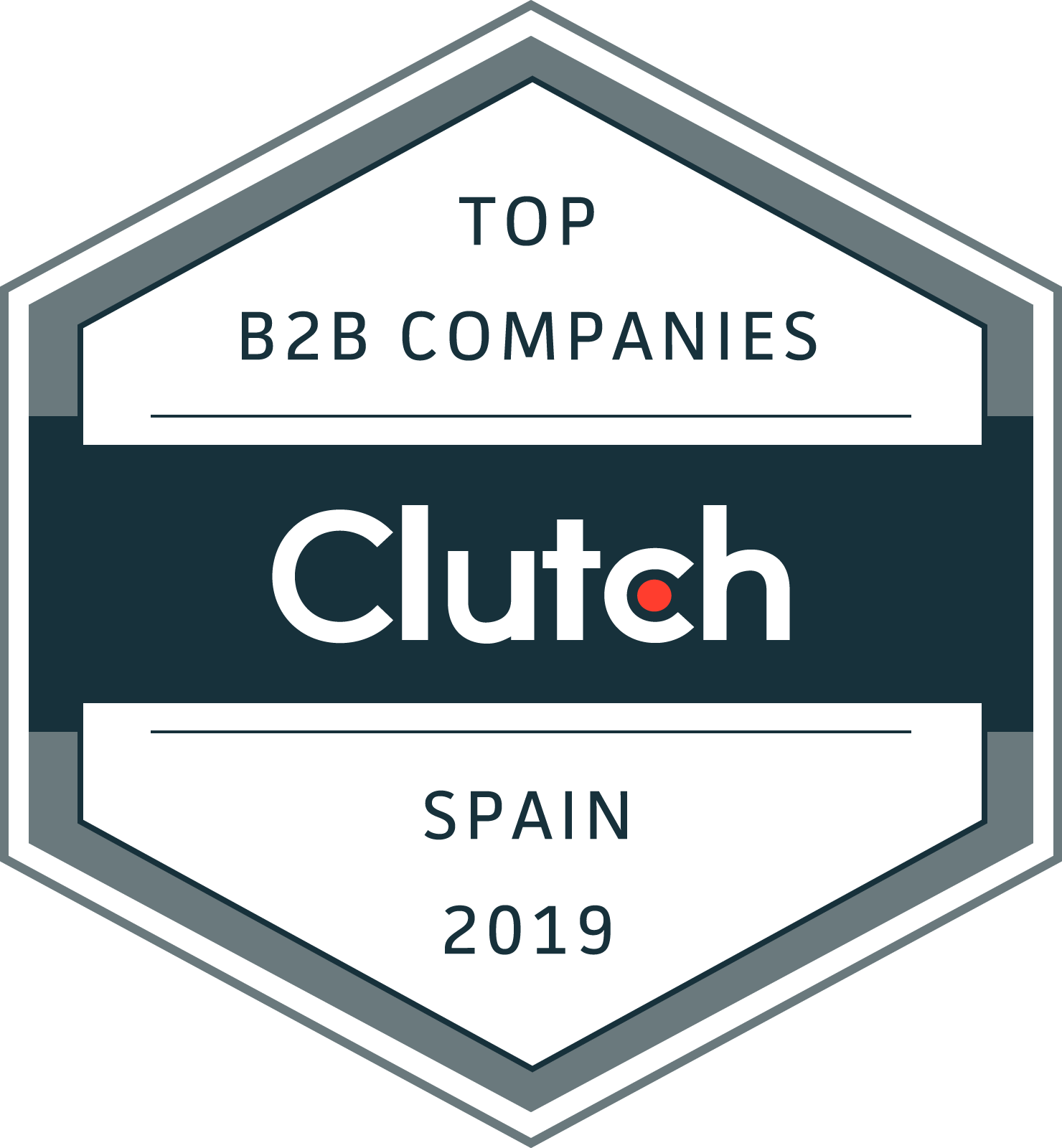 Para leer en español, ver más abajo.
When you think about any industry, the most successful individuals and organizations are those that bring a passion and desire to work each and every day. From an advertising and marketing standpoint, advertisers with a passion for creativity and delivering the end product are the ones who exceed expectations. With Appetite Creative Solutions, you are getting that and so much more. We have been applauded by our former clients for our attentiveness, time management, and quality of work so much so that we were named a top creative and design agency in Spain by Clutch.
We are thankful to be listed at the top of a report on Clutch thanks to the reviews Clutch has had with our past clients. Clutch, a B2B ratings and reviews website, connects service providers with customers looking for the best firms in their area. The team at Clutch conducts in-depth interviews with clients and does extensive market research to determine an accurate rating and review for the company and then we are given a ranking.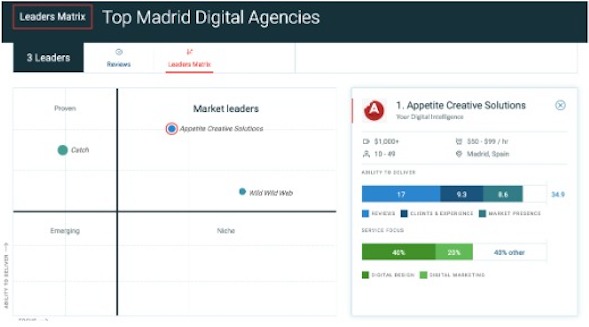 The importance of these reviews cannot be overstated, as they are the baseline to determine what we as an agency do well and how we can improve. Not only do we have reviews on Clutch's site, but we are also ranked highly on The Manifest, a Clutch sister site. Here users can view descriptions for top firms in Spain and across the globe. In addition, we are also featured in the research on Visual Objects, a portfolio-sharing site, as well as in Design Rush's list of 'Top 20 Digital Marketing Agencies Of 2019 That Won't Break The Bank'. We have also been recognised for our B2B branding services specifically in this list of Best Small Business Branding Agencies.
"We are delighted to have been selected once again as one of the top 10 agencies in Spain. We particularly pride ourselves on this recognition from Clutch as a token of the quality of our services, given that it is based on client reviews rather than paid awards. The satisfaction of our clients is hugely important to us and we are committed to continue exceeding their expectations." - Jenny Stanley, Managing Director, Appetite Creative Solutions
We take pride in our innovative creative solutions for the advertising and marketing industry. We have had a lot of success in the past, and, using these Clutch reviews, we are determined to deliver more success in the future. We are honored to be named one of the top digital advertising and marketing agencies in Spain. If you have any questions about our business plan and want to learn more, feel free to send us an email!
Español
Cuando pensamos en cualquier industria, los individuos y organizaciones más exitosos son los que cada día llevan a sus trabajos la pasión y el deseo. Desde una perspectiva de publicidad y marketing, los anunciantes que tienen pasión por la creatividad y cumplen el producto final son los que superan las expectativas. Con Appetite Creative Solutions, estás obteniendo esto y mucho más. Nuestros clientes anteriores nos han aplaudido por nuestra atención, gestión del tiempo y calidad de trabajo tanto que nos han nombrado una de las principales agencias creativas y de diseño en España, a través de Clutch.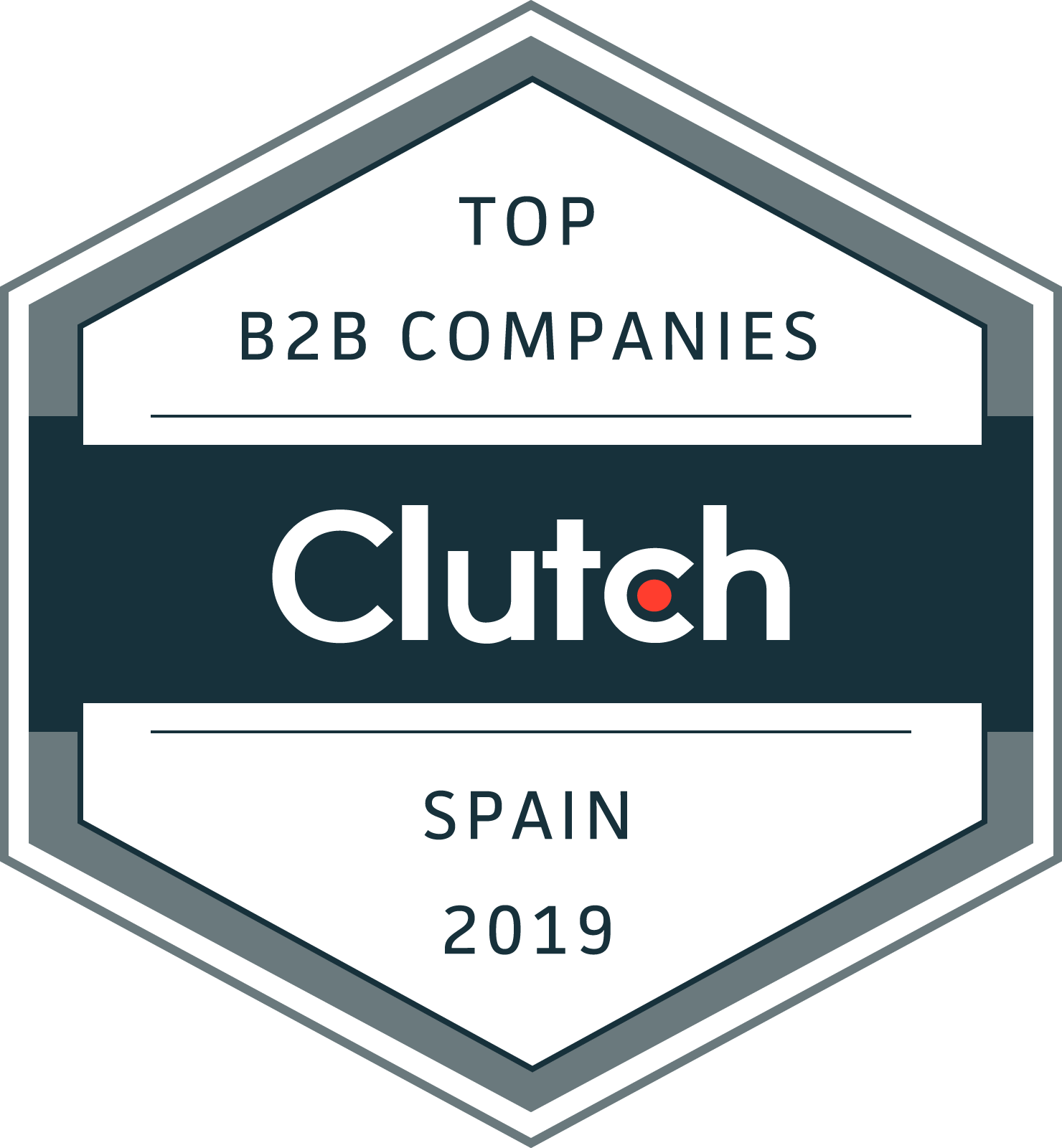 Estamos agradecidos de estar incluidos a la cabeza de un informe de Clutch, donde gracias a las reseñas que han dejados nuestros clientes anteriores. Clutch es un sitio web de reseñas y calificaciones de empresas 'B2B', conectando a los proveedores de servicios con los clientes, que buscan las mejores compañías en su zonas. El equipo de Clutch realiza en profundidad entrevistas con clientes y lleva a cabo extensos estudios de mercado para determinar calificaciones y reseñas precisas, así entran empresas como Appetite Creative en su ranking.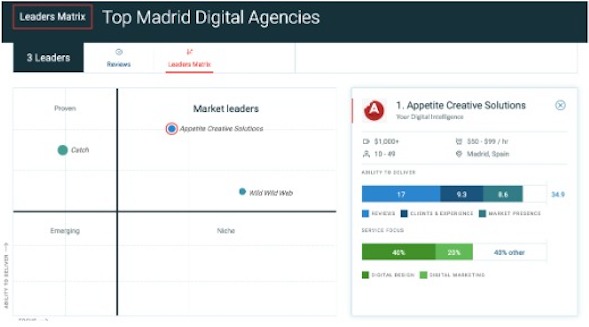 No exageramos al indicar la importancia de estas reseñas, porque son la base para determinar lo bien (o mal) que lo hagamos en nuestra agencia y cómo podemos mejorar. No sólo tenemos reseñas en el sitio de Clutch, sino también estamos hemos obtenidos una elevada posición en The Manifest, un sitio hermanado con Clutch. Aquí, los usuarios pueden ver a las descripciones de las empresas líderes en España y el resto del mundo. Adicionalmente, también aparecemos el informe de Visual Objects, un sitio para compartir portfolios, además de una lista de Design Rush titulada 'Top 20 Digital Marketing Agencies of 2019 That Won't Break The Bank'.
"Estamos encantados que una vez más hayamos sido elegidos como una de los diez mejores agencias en España. Particularmente nos enorgullecemos de recibir este reconocimiento de Clutch como señal de la calidad de nuestros servicios, dado que se toma en cuenta las reseñas de nuestros clientes, en lugar de otro tipo de premios. Valoramos mucho la satisfacción de nuestros clientes y seguimos comprometidos con continuar superando las expectativas." - Jenny Stanley, Directora Regional, Appetite Creative Solutions
Nos enorgullecemos de nuestras soluciones creativas e innovadoras para la industria de la publicidad y marketing. En el pasado ya habíamos tenido mucho éxito y con las reseñas de Clutch estamos decididas a cumplir en el futuro más éxito. Nos sentimos honrados de ser elegidos como una de las mejores agencias de publicidad digital y marketing en España. Si tienes alguna pregunta sobre nuestro plan de negocios y quieres aprender más, no dudes en enviarnos un email!