Here at Appetite Creative Solutions, we know it's been a long year for most businesses. That's why we made sure our clients had the best creative solutions at their disposal to fuel their brands. Their success truly speaks for itself.
As an exciting way to wrap up 2020, we've been highlighted by Clutch as among the top women-owned companies for branding. Clutch is a B2B market research authority. Their findings help interested companies determine if their vendor candidates will be a good fit based on experience and performance. The Manifest, Clutch's sister site that includes company listings, also featured Appetite on their directory of the "Top 100 Branding Agencies in the UK".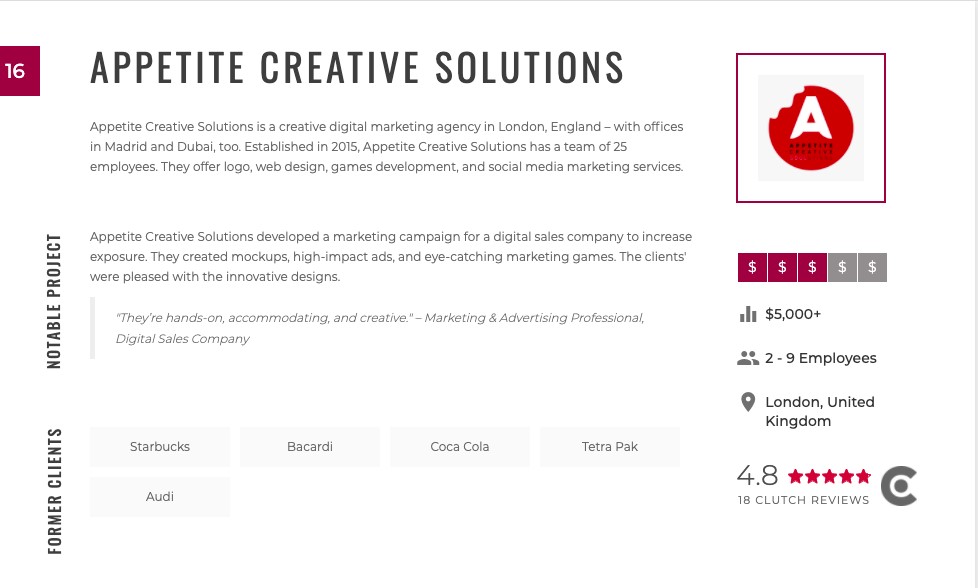 Our clients had a hand in helping us earn this distinction. Take a look at some of the kind words they had to share about working with us:
"They're very responsive whenever we need to change or update something. This was good because sometimes we need things done very urgently. One time we needed something quickly, and the project manager communicated with the design team immediately. We didn't have any issues with the deadlines. They sometimes delivered even sooner than the deadlines."
– Owner, Nutshell London
"Their project management style is very good. We have a studio manager, who functions as our project manager. They give me presentation packs to describe what they're going to be doing with the project timelines."
– Founder, Scentropy
"Their design skills were top-notch and they were very professional. Given we are in Spain and the newsletter is in English, it's hard to find agencies with native English speakers. It was good to work with them for that reason, they double-checked everything and made sure it made sense even it was not part of their job."
– Marketing & Communications Manager, Higher Education Institution
We're truly proud to be recognized by Clutch and praised by our customers. If you're new to our company, drop us a line and let us help satisfy your hunger for results in 2021 with a stunning new brand identity!