Our picks: the best examples
of connected packaging
Connected packaging can increase brand value and help to connect brands and their products directly to customers. At least that is the strongest argument that supports the forecasts which, according to Data Bridge's latest research, predict a growth rate of 7.4% in the period of 2020 to 2027, peaking at USD 31.94 billion by 2027.

Connected packaging examples can be seen often in scannable QR Codes printed in yoghurt pots, soda cans or even meat packages.
In this article, we will let you know in more detail what this type of smart packaging is, what benefits it can bring to your brand and present you with our favourite and most creative examples of connected packaging campaigns.
What is connected packaging?
Connected packaging - also commonly known as smart packaging - refers to product packaging designs that incorporate technology, providing an enhanced user experience, increasing product engagement while collecting relevant data in the process, which provides a deeper level of knowledge about the consumers' preferences and behaviour.

And if you are thinking about complex, expensive and time-consuming brand apps, which would require users to download and potentially waste time, forget about it. The digital experiences offered by smart packaging can be as simple as using the camera of the smartphone to scan a QR code. We will showcase some creative and yet simple smart packaging examples later in this article.

According to Appetite Creative Solutions' Founder and Managing Director Jenny Stanley, the engagement generated by these interactive digital experiences can bring countless benefits for brands that decide to invest in this type of packaging. "[The engagement] leads to a deeper connection between customers and brands, as customers appreciate being involved and understood, and come back for more", Jenny states.
Our favourite smart packaging examples?
Packaging has the ability to turn a simple functional relationship between a brand and a user into offering a useful and valued service. With so many benefits being provided by smart packaging to both consumers and brands, it is no surprise that the global smart packaging industry is growing every year, and is expected to reach $59 billion by the end of 2025, according to the latest ReportLinker report on the industry.

For that reason, within the world of smart and connected packaging, there are companies that excel when it is time to create engaging and interactive packaging. The examples are countless, but below, we are going to outline some of the most creative and disruptive active packaging, as well as intelligent packaging examples.
Example 1: NFC-Enabled Packaging
In 2016, Malibu - one of the most famous brands of Rum worldwide - implemented Near-Field-Communication (NFC) tags into the shrink-sleeve label of their bottles, in one of the best connected packaging campaigns that year. With a simple smartphone, users could access detailed content about the product, participate in instant-win contests or learn drink recipes.
Also, by just waving their phones near the NFC-enabled bottles, the users could receive a recommendation of the nearest rooftop or indoor venue - according to the weather outside - where they could enjoy a great Malibu drink.
According to the company, the conversion rate was pleasant, in a campaign that "yielded more data than would have been possible through consumer research."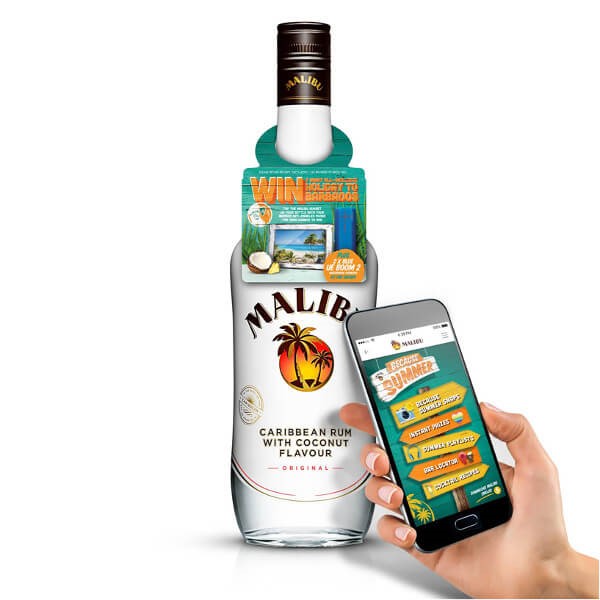 Example 2: Intelligent Packaging
Who said simple plastic bottles cannot be turned into useful and engaging packaging? In 2019, Water.io (now called Impacx) partnered with Danone to develop Coach2O - a 'smart cap' that can be clipped onto the brand's Spanish mineral water Font Vella's existing cap, allowing any user to track their levels of hydration.
This widget, says Water.io's co-founder Yoav Hoshen, comes with an accompanying app allowing users to set their own daily hydration goals, transforming an ordinary plastic bottle into a 'smart' bottle.
Example 3: Smart Cosmetic Packages
The Swiss brand Valmont Cosmetics was one of the first companies in the industry of beauty and skincare to incorporate SpeedTap tags in their packages. With this technology embedded in the packaging of their cosmetics, users were able to connect directly with the brand, increasing the engagement between them.
As users were redirected to a personalized landing page, they could read instructions on how to use the product correctly, learn about the product's ingredients, buy more complementary products and get advice based on their preferences.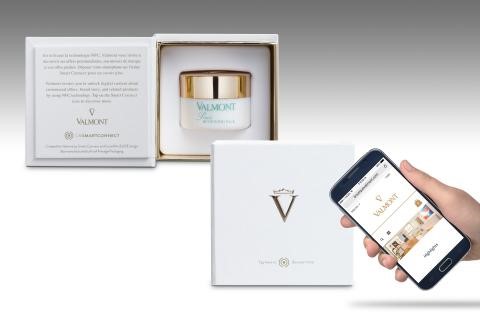 Example 4: Wi-Fi-Enabled Packaging
Controversial, but definitely one of the most innovative smart packaging projects in the most recent years is the Wi-Fi-connected wine bottle developed by Kuvée. The product works as a Wi-Fi-enabled sleeve where aluminium wine cartridges can be fitted.
As the cartridges are put in, the full-colour LED touchscreen that is featured in the sleeve displays information about the wine, like the grape it's made from and pairing notes, as well as giving users the possibility of purchasing more wine cartridges, compatible with the 'smart' sleeve.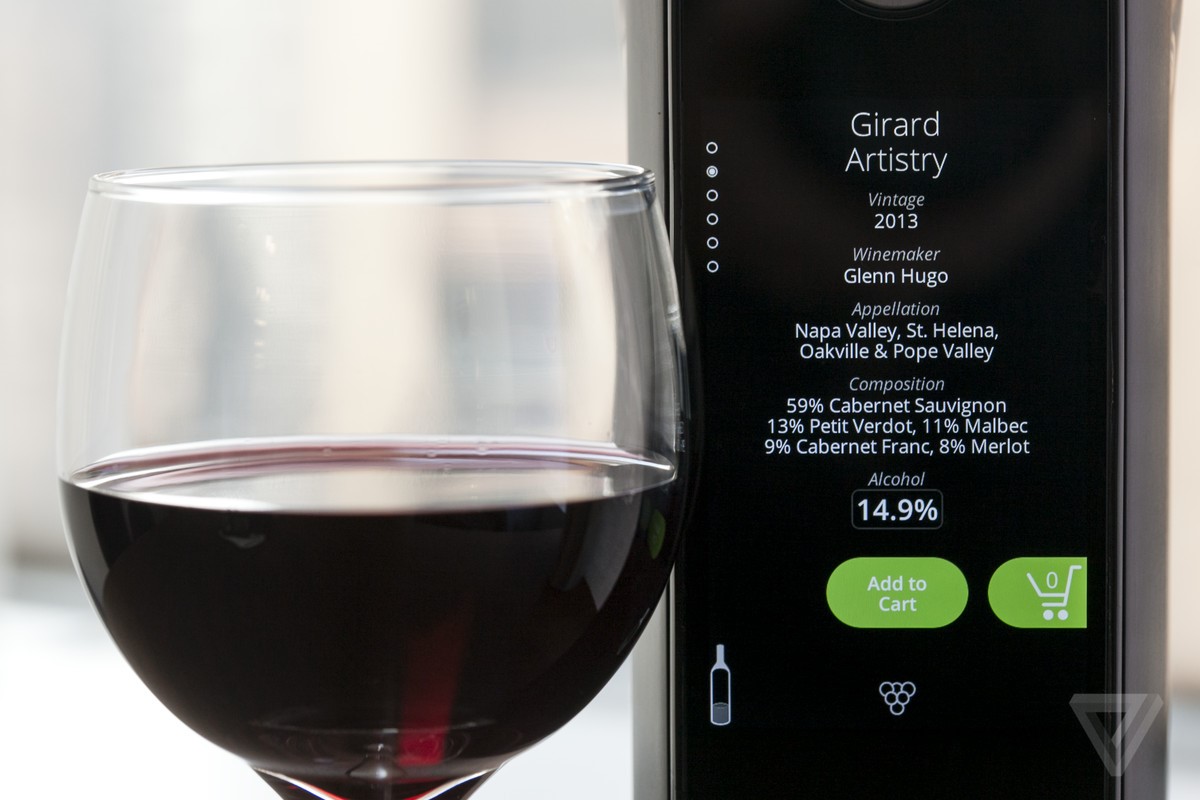 Example 5: Gamified Packaging
Last but not least, one of the most creative and effective Appetite Creative's projects, developed for the Swiss dairy company Emmi AG.
As the brand wanted to promote the launch of two new products via interactive digital advertising and connected packaging, Appetite developed a gamification experience, which could be incorporated into the product's packaging. The only request was a simple QR code, printed on the packaging, that was made secure via Tetra Pak. By using their smartphones to simply scan de QR code, they could not only play a bunch of customized games created specifically for Emmi but also get discount codes, free samples and raffle entries.

This was a win-win project, as not only did the users have a great time with the brand's products but also Emmi was able to gather valuable data, which could be difficult to gain from other sources. The data included information such as the users' age, location, gender, duration of engagement, peak hours of use and purchase location.
"This technology affords Emmi a new level of understanding about their consumers which they didn't have before, enabling them to use insights in an increasingly targeted way to connect them with new products and offers today, and for future product development," said Susy McKinley Marketing Manager at Tetra Pak for Mid Europe.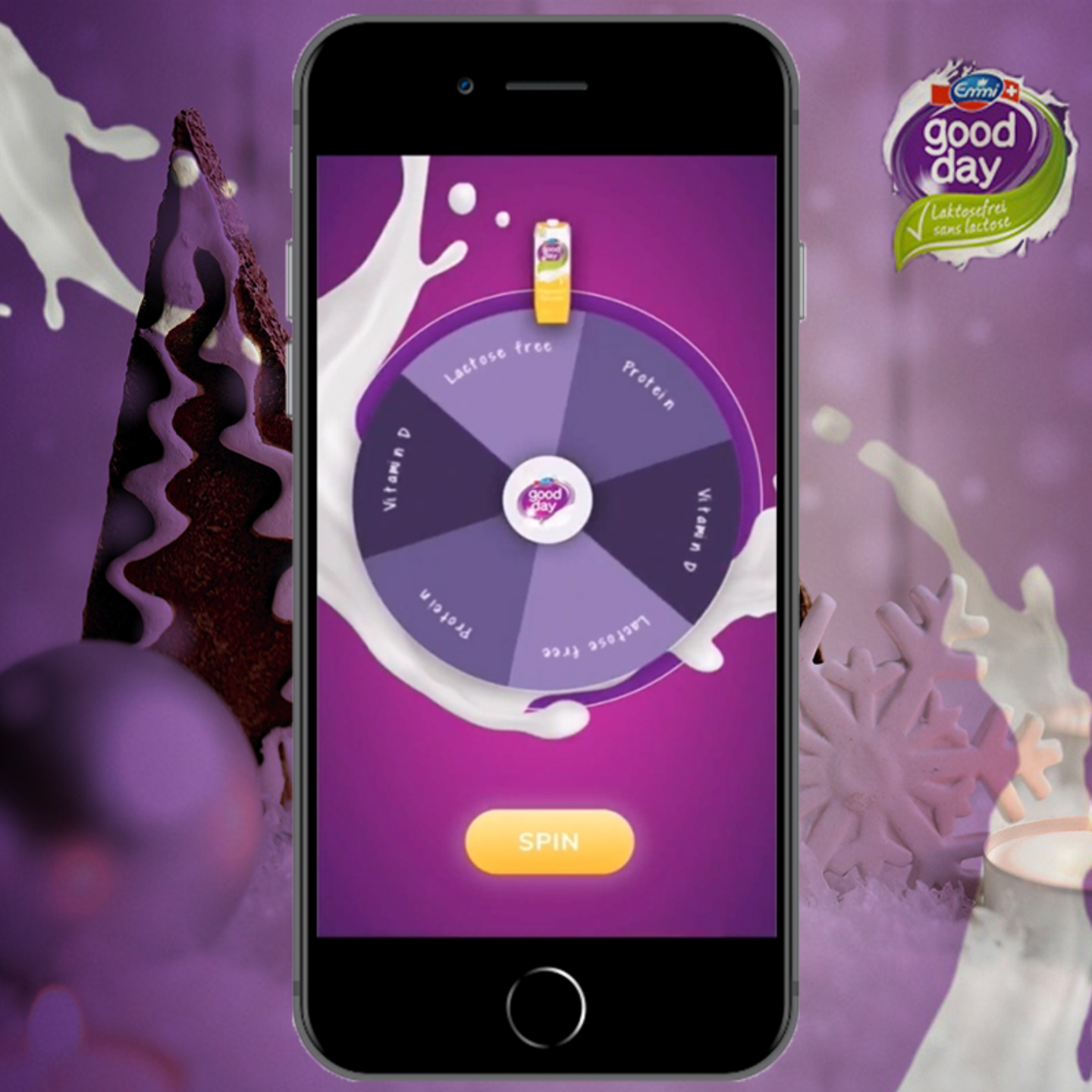 Ready to learn more about connected packaging?
Launching a successful smart packaging campaign can be very difficult, no doubts. It becomes even more complicated if you don't have the required experience for this type of project.
So, as an experienced connected packaging agency that worked for Ben & Jerry's, Vodafone and Bacardi, Appetite Creative and their talented team of developers, designers and marketers, can help your brand skip the beginner stages and launch a stunning campaign at the first try.

If you want to know other ways we can help your business step up its digital game, check out our website and schedule a call with us!